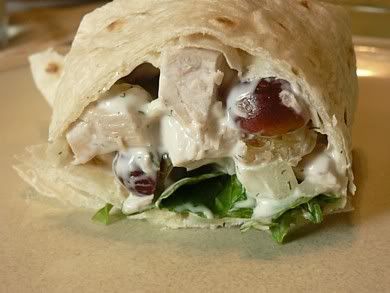 For this month's Weekend Cookbook Challenge, the theme was picnic food. Nothing says 'picnic' to me like a nice chicken salad, so I went searching through all my books for the perfect recipe. I finally found one in Jean Paré's Chicken, etc – a quick little variation on your basic Waldorf salad. We had this for dinner the other night, wrapped up in flour tortillas with a bit of lettuce for added crunch. They were fabulous, and I know I'll be pulling out this recipe a few more times before summer ends.
2 cups cooked chicken, chopped into small pieces
1 cup celery, chopped
1 cup red grapes, halved and seeded
1/2 cup walnuts, chopped and roasted
1/2 cup mayonnaise
1/2 cup sour cream
2 tbsp lime juice
2 tsp dried dill (or 1 tbsp fresh)
1 tsp paprika
salt and pepper to taste
Mix all the ingredients together in a large bowl.
Refridgerate the salad for at least one hour before serving.
Notes:
I had no cooked chicken on hand, so I quickly pan-fried two breasts in a tablespoon of olive oil, then chopped them into cubes once they had cooled.
For quickly roasted walnuts, toss a handful onto a microwaveable pie plate, then nuke them for about 2 minutes. Keep a close eye on them, because they'll burn very easily!