The deadline has passed, so it's time to see what everyone came up with for Weekend Cookbook Challenge #19 – Dinner and a DVD.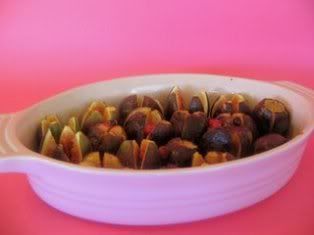 Shaun of Winter Skies, Kitchen Aglow starts us off with Broiled Figs, to go with a pair of French movies, Jean de Florette and Manon des Sources.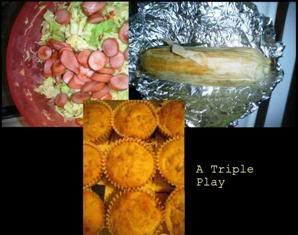 Amy from Tart Reform went all out with three recipes and three baseball movies – Rookie of the Year's Chicago Dog Salad, Field of Dreams' Roast Corn on the Cob, and A League of Their Own's Peach Sunflower Seed Muffins.
Raaga, the Singing Chef, made a tasty dish of Spaghetti, right in the middle of watching The Pursuit of Happyness.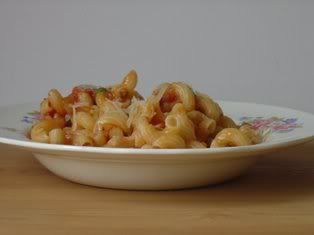 Sara from I Like To Cook (and intrepid founder of the Weekend Cookbook Challenge) paired You've-Got-Red-On-You Pasta with the best zombie movie ever, Shaun of the Dead.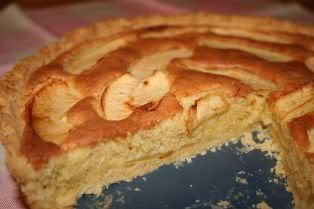 Pamela, the Cooking Ninja, made a very tasty looking Almond Apple Pie, to go with (what else) American Pie.
Deborah of Play With Food made Cheesy Breakfast Grits, to go with My Cousin Vinny.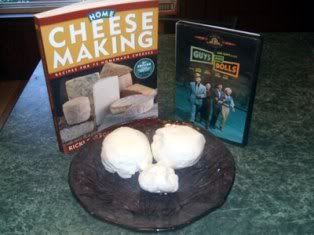 Mike from Mel's Diner went all out, and made two dinner/movie pairings. His first was homemade mozzarella cheese, to go with Guys and Dolls.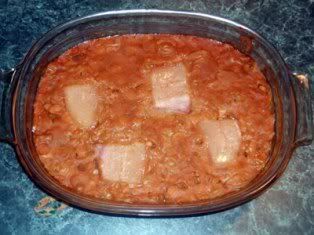 Mike's second dish was Papa's Baked Beans, to go with White Christmas.
Viji from Malabar Ruchi made Indian Macaroni and Cheese, to go with Big B, a Malayalam Movie.
Michelle from Je Mange la Ville stirred up some wonderful looking Vanilla Coconut Shrimp, to go with Lady in the Water.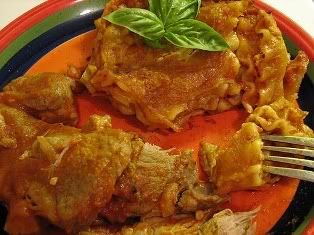 Lis from La Mia Cucina snuck in at the last minute with Mama Cream Puff's Lasagna, to go with The Godfather DVD Collection.
Me? I whipped up some Shitkickin Soup, and settled in with a threesome of action movies – Crank, The Transporter and Kung Fu Hustle.
Thanks to everyone who participated this month! The Weekend Cookbook Challenge will be continuing next month – check out the website to find out the new theme.