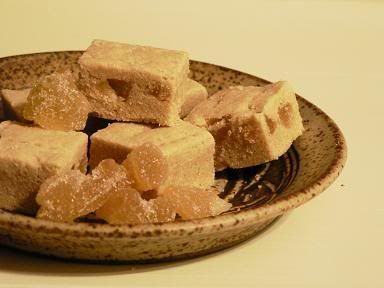 My mom has made these shortbread squares every Christmas that I can remember. The base recipe came from the 1983 Family Circle Christmas magazine – an issue we still have, torn and vanilla-stained though it is. It's the easiest recipe ever (only four ingredients!) but the results are just fabulous.
1 cup butter, softened
1/2 cup brown sugar, tightly packed
2 1/2 cups all-purpose flour
1/3 cup candied ginger, diced
Cream together the butter and the sugar.
Slowly stir in flour and ginger chunks, finishing by kneading with your hands.
Pack the shortbread mixture firmly into a 9×9 cake pan, and prick the top with a fork.
Bake at 350ºF for 35 minutes, or until shortbread is golden brown.
When slightly cooled, cut into 1-inch squares then let cool completely in the pan.
Serve with a sprinkling of icing sugar on top.
Notes:
The shortbread mixture will be very crumbly when you first pour it into the cake pan. Don't worry about this – just give it a good squishing.